Vital Statistics
Founded: 1879
Chairman: Lee Power
Last Season: League Two - 1st (Promoted)
Nickname: The Robins
Rivals: Oxford United, Reading
Major Honours
League Cup: 1969
Scheduled Matches
Portsmouth vs Swindon: Saturday, December 26th (3pm)
Swindon vs Portsmouth: Tuesday, April 20th (3pm)
Swindon Town: A brief history
Formed as Swindon AFC in 1879, they adopted the Town moniket in 1883 and were a founding member of the Southern League before being elected to the Football League in 1920. The Robins didn't win a promotion until 1963 and only remained in the Second Division for two seasons before being relegated.
1969 was Swindon's glory year as they won promotion back to the second tier and won the only major honour in their history, beating Arsenal 3-1 in the League Cup final. Bad times fell on the club in the early 80's as they were relegated to the Fourth Division but they soon climbed the pyramid again and were promoted to the Premier League after beating cheaters Leicester in the 1993 play-off final.
Consecutive relegations followed just a single season in the top flight where they conceded 100 goals and have been yo-yo'ing between the bottom two tiers ever since, with an occasional brief flirt with promotion to the Championship.
The Manager: Richie Wellens
The 40-year-old former Manchester United youth played as a midfielder, most notably at Blackpool and Leicester but also had lengthy spells at Oldham and Doncaster on two occasions.
After retiring in 2017, he became Oldham's manager following a successful caretaker spell but was sacked following their relegation to League Two. He then joined Swindon and won League Two in 2020 on the points-per-game system after the season was curtailed following the Coronavirus outbreak.
Match To Remember: Portsmouth 4 Swindon Town 1 (Division One - 25/03/2000)
Lee Bradbury bagged a hat-trick for Tony Pulis' side in this game with Adrian Whitbread of all people scoring the other in this Robins rout.
Match To Forget: Swindon Town 5 Portsmouth 0 (League One - 01/01/2013)
Pompey held on for an hour during this New Year's Day fixture until James Collins came on as a substitute and scored four goals, with Danny Hollands netting the other. A truly miserable result which set the tone for the entire year.
The Ground: The County Ground (Capacity: 15,700 - Away: 1,200)
Pompey fans are mostly seated/stood in part of the Arkell stand that runs along the side of the pitch. Opposite that is Don Rogers stand, named after Swindon's talismanic winger of the 1960's.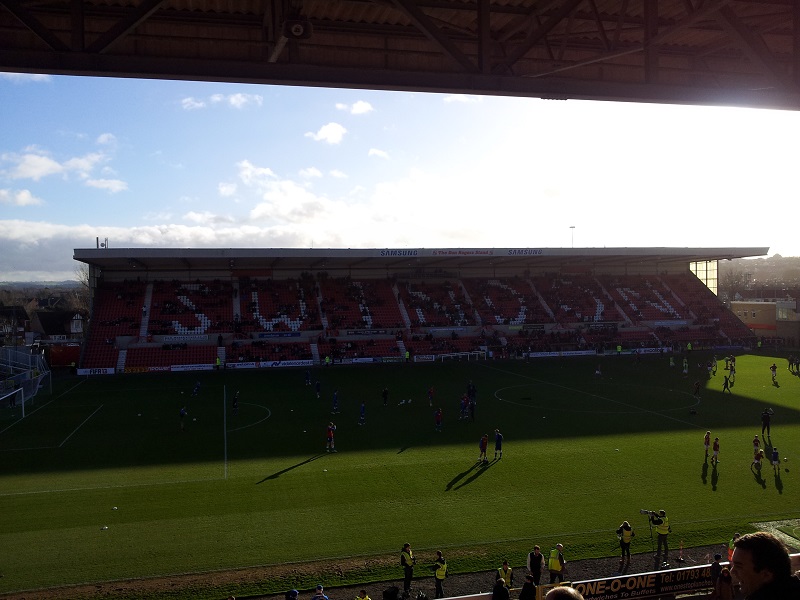 On the left is the roofless Stratton Bank End where more Pompey supporters can be accomodated if required.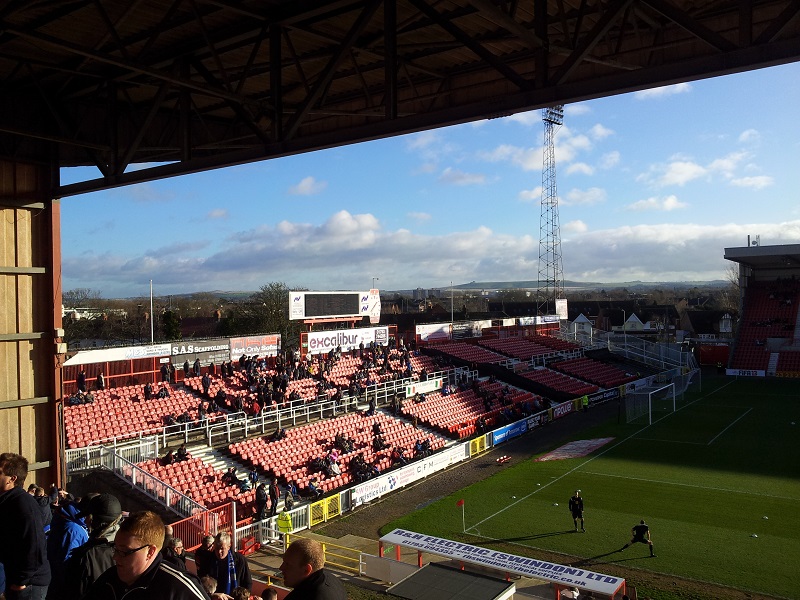 On the right is the Town End where Swindon's most vociferous fans are found, albeit in the worst section of the ground.