Vital Statistics
Founded: 1879
Owner: Stewart Donald
Last Season: League One - 8th
Nicknames: The Black Cats
Rivals: Newcastle United, Middlesbrough
Major Honours
League Champions: 1892, 1893, 1895, 1902, 1913, 1936
FA Cup: 1937, 1973
Scheduled Matches
Portsmouth vs Sunderland: Tuesday, March 9th (7:45pm)
Sunderland vs Portsmouth: Saturday, October 24th (3pm)
Sunderland: A brief history
Formed in 1879, Sunderland were elected to the Football League in 1890 and won their first league title the season after. They retained their title and won it again two years later before more league triumphs in 1902 and 1913. The last league title Sunderland would win was in 1936 and they followed that up with an FA Cup win the following season.
Following financial scandal in the 50's due to paying players above the maximum wage, Sunderland were relegated for the first time in 1958 and didn't bounce back until 1964 but were then relegated again at the end of the decade. As a second division club, Sunderland won their most recent trophy by famously beating Leeds 1-0 at Wembley in 1973 but by1987 they were relegated to Division Three.
Having experienced another promotion and relegation, Sunderland moved from Roker Park into the Stadium of Light in 1997 and were promoted back to the Premier League in 1999. Since then Sunderland had broken the record for lowest Premier League points total twice (19 and 15 points respectively) but stablised and stayed in the top flight from 2007 to 2016 until a disastrous double relegation saw the Black Cats drop into League One.
The Manager: Phil Parkinson
As a player, Parkinson started out at Southampton but never made an appearance for them before moving to Bury and then eventually Reading before he retired in 2003, taking up his first managerial post at Colchester United soon after.
He took the U's to the Championship and his success there saw him poached by Hull in 2006, although his reign was a disaster and he joined Charlton as assistant to Alan Pardew before taking the main job at The Valley with the club getting relegated to League One and then failing to win promotion the following season.
Parkinson had to rebuild his managerial career and was appointed Bradford manager in 2011. There, he famously took the Bantams to the League Cup final despite the club being in League Two and in the same season they won promotion to League One via the play-offs.
The following season saw Bradford inflict a famous 4-2 defeat of Chelsea in the FA Cup before going out at the quarter-finals. Bradford were beaten in the play-offs the same season but Parkinson's success got the attention of Bolton, who appointed him manager 2016. He got the Trotters up to the Championship and kept them there for a season before relegation in 2019 under extremely tough circumstances and then joined Sunderland, replacing the sacked Jack Ross.
Match To Remember: Sunderland 1 Portsmouth 4 (Premier League - 29/10/2005)
An early Dean Whitehead penalty gave Sunderland the lead in an early relegation six-pointer but Pompey came out fighting in the second half and Zvonimir Vukic equalised thanks to some generous Black Cats defending.
Even more ridiculous defending gifted Matty Taylor a tap in and then he produced a sublime volley from near the halfway line to give Alain Perrin's side a commanding lead. Dario Silva added a fourth as boos rang around the Stadium of Light at the final whistle.
Match To Forget: Portsmouth 0 Sunderland 0 (League One Play-Off Semi-Final Second Leg - 16/05/2019)
A toothless Pompey bottled the second leg of their play-off clash with Sunderland, barely laying a finger on them as they comfortably saw out a goalless draw. Kenny Jackett came under major criticism for leaving his best attacking players out and not showing any sense of urgency to win such an important game.
The Ground: Stadium of Light (Capacity: 49,000 - Away: 3,000)
The Stadium of Light is not only the best ground in League One but one of the best in the country. It's imposing from the outside and it simply shouldn't be a venue hosting third tier football.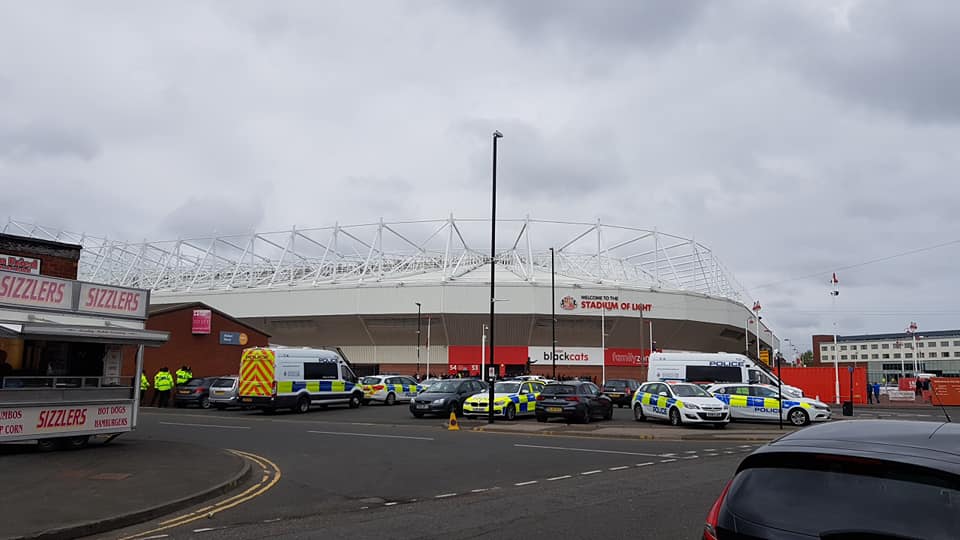 Unfortunately away fans are now situated in the top tier of the North Stand and no longer occupy the South Stand which offered better views of the pitch. Often the top tier not allocated to away fans remains empty as seen in the photo below.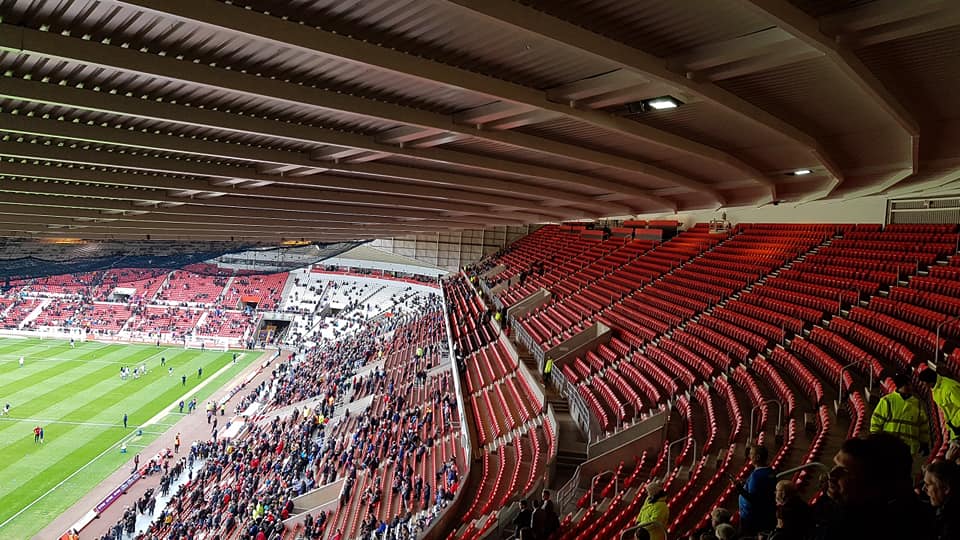 However, the Stadium of Light is still a superb venue and the Sunderland fans can generate a lot of noise when things are going for them. Conversely, they can also quickly turn on their side if they're not performing and that only makes things worse.