Vital Statistics
Founded: 1886
Chairman: Roland Wycherley
Last Season: League One - 18th
Nickname: The Shrews, Salop
Rivals: Walsall, Wrexham
Major Honours
None
Scheduled Matches
Portsmouth vs Shrewsbury: Saturday, January 27th (3pm)
Shrewsbury vs Portsmouth: Saturday, December 23rd (3pm)
Shrewsbury Town: A brief history
Shrewsbury were formed in 1886 and played in the Birmingham & District League and Midlands Champions League until their admission to Division Three North in 1950.
Most of the Shrews' league history is unspectacular although they did reach a League up semi-final in the 60's and an FA Cup quarter-final in the 70's under Graham Turner's management where they also won the Third Division and stayed in the second tier of English football for the majority of the 80's.
The 90's and 00's saw the Salop side yo-yo between the third and fourth tiers of the Football League and they even had a spell in the Conference before moving from Gay Meadow to New Meadow. Shrewsbury currently reside in League One but always flirt with relegation back to League Two.
The Manager: Paul Hurst
The 42-year-old played almost his entire career as a left back for Rotherham United, broken by a brief loan spell at Burton in 2008. When he retired he joined playing colleague Rob Scott in managing Ilkestone Town, where they won promotion to the Conference North.

The pair moved to Boston United and won promotion to the Conference North again in their first season. This success prompted Grimsby to hire them but Scott was sacked in 2013 for gross misconduct, leaving Hurst solely in charge. He eventually got the Mariners promoted after winning the play-offs two seasons ago and that tempted Shrewsbury to prise him away and take him to Salop where he was successful in keeping Shrewsbury in League One.
The Ground: New Meadow (Capacity: 9,800 - Away: 1,500)
New Meadow (or Greenhous Meadow if you want to call it that) is one of those generic identikit box grounds in the middle of nowhere. The nearest watering hole is a walk to the Brooklands Hotel which is a pretty good place to drink.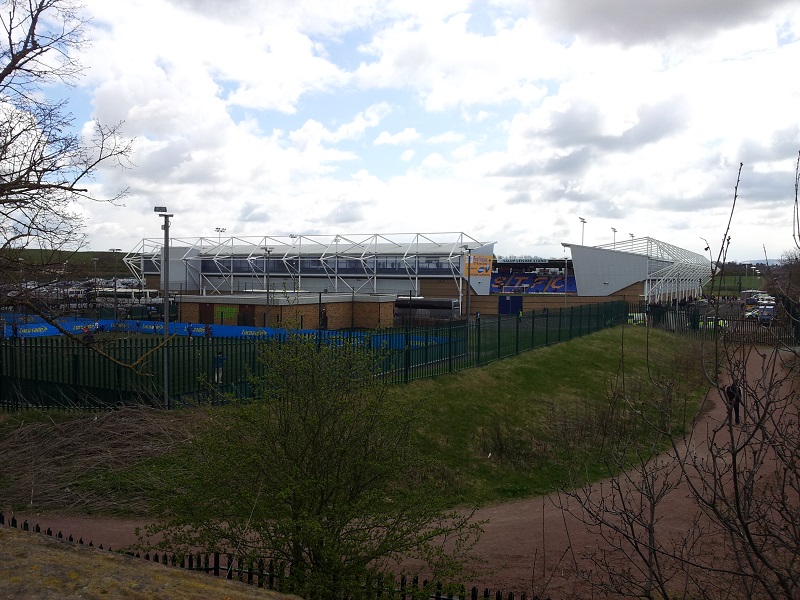 The Roland Wycherley East Stand (named after the chairman) is nothing special. Both Shrews and visiting fans alike miss Gay Meadow for its character, something that can be said for many football clubs that have moved into "plastic" grounds over the years.
The West Stand is exactly the same as the east.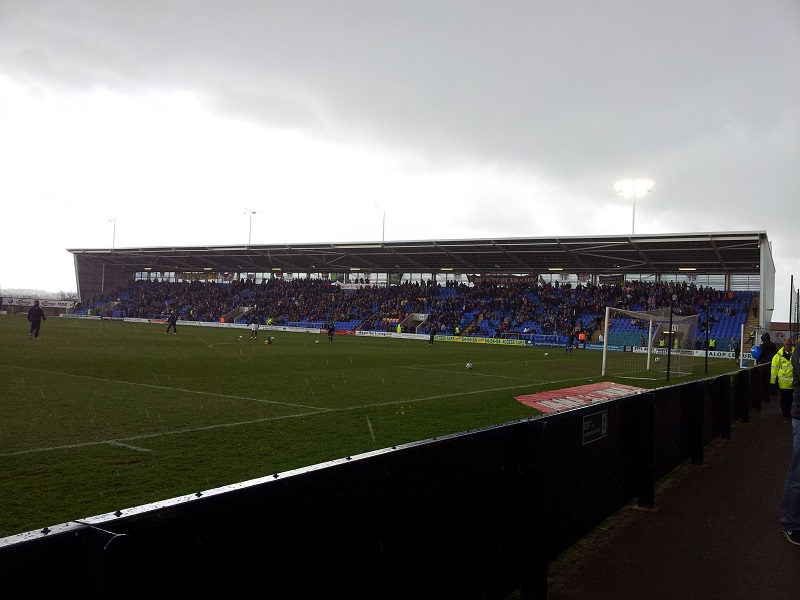 Opposite the away end is the Salop Leisure Stand which is virtually the same. It's basic but offers a good view of the pitch due to how steep it is.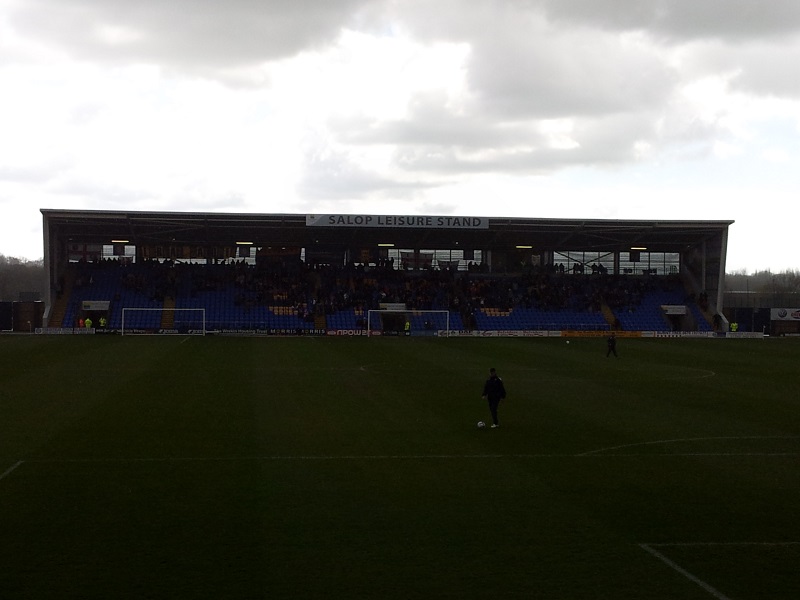 Overall, New Meadow isn't the best ground due to its location and blandness. However, the Shrewsbury fans do their best to give it some character with banners and such and they can create a good atmopshere too for a friendly bunch. Nice pies too.