Vital Statistics
Founded: 1899
Chairman: Peter Swann
Last Season: League One - 5th
Nickname: The Iron
Rivals: Grimsby Town, Hull City, Lincoln City
Major Honours
None
Scheduled Matches
Portsmouth vs Scunthorpe: Saturday, March 16th (3pm)
Scunthorpe vs Portsmouth: Saturday, November 24th (3pm)
Scunthorpe United: A brief history
In its early days, Scunthorpe merged with local rivals Lindsey United to become Scunthorpe and Lindsey United. The club was elected to the Football League in 1950 and were as high as Division Two from 1958 to 1964.
Most of The Iron's history has been spent in the bottom division since the 60's but under Brian Laws they were promoted to League One in 2006. Physio Nigel Adkins took over from Laws after he went to Sheffield Wednesday and guided the Lincolnshire club to the League One title in 2009.
Despite relegation from the Championship the following season, Adkins ensured his team bounced straight back and he kept them in the second tier before moving to Southampton in 2010. Two relegations in three seasons followed that brief spell in the second tier but Scunthorpe won promotion straight back to League One and have lost out on promotion in the play-offs for the last two seasons.
The Manager: Nick Daws
The 48-year-old spent the majority of his playing career as a midfielder for Bury before moving on to Rotherham and Grimsby, hanging up his boots in 2005.
After retiring, Daws took up various coaching roles at Rotherham, Barnsley and QPR before being appointed a first team coach at Scunthorpe and then eventually becoming Graham Alexander's assistant. Having been caretaker manager twice before, Daws took the job permanently when Alexander was sacked in March 2017 following a terrible run of form.
The Ground: Glanford Park (Capacity: 9,000 - Away: 1,650)
Before you head to Glanford Park, there is a decent pub across the road called The Old Farmhouse if you fancy a drink or ten.
The away end of Glanford Park is just how Trent saidin the interview. Low, pillars in the way and a poor view as the below photo shows. The opposite end is the Britcon Stand, the main home terrace for Scunthorpe supporters.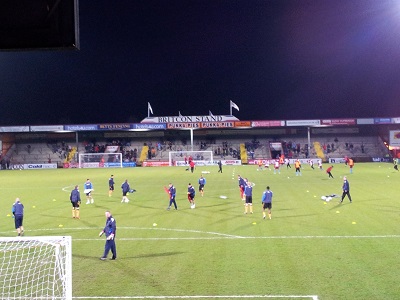 To the right is the Clugston Stand. There's nothing special about it and looks like a stand that was new in 1988 when Scunny moved from the Old Showground. I can only imagine how bad that must have been.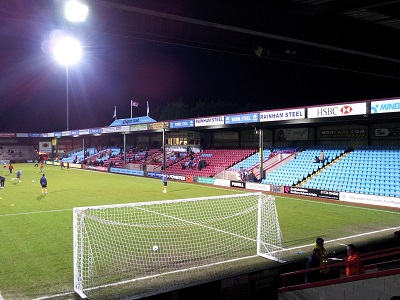 To the left is the Scunthorpe Telegraph Stand which is the same as the Clugston Stand but has the dugouts and the "corporate boxes" for the prawn sarnie brigade.
Overall, Glanford Park isn't outstanding but I feel it gets too much flak for what it is. You can make a lot of noise in the away end and so long as you don't go there with too much expectation (and why would you? It's Scunthorpe FFS!) then it's a good/night day out.