Vital Statistics
Founded: 1925
Chairman: Tony Stewart
Last Season: Championship - 22nd (Relegated)
Nickname: The Millers
Rivals: Barnsley, Sheffield Wednesday, Sheffield United, Doncaster Rovers
Major Honours
None
Scheduled Matches
Portsmouth vs Rotherham: TBA
Rotherham vs Portsmouth: Good Friday, April 10th (3pm)
Rotherham United: A brief history
Rotherham United were formed in 1925 by a merger of Rotherham County and Rotherham Town and continued as a Football League club throughout the early 20th century.
The Millers' highest league finish was 3rd in the old Division Two in 1955 where they were denied a place in the top flight because of an inferior goal average. They also participated in the first ever League Cup final, beating Aston Villa 2-0 at Millmoor but losing the return leg 3-0 at Villa Park. The club found themselves in the bottom division by 1973.
Recent history has seen Rotherham mainly yo-yo between the bottom two divisions although Ronnie Moore achieved back-to-back promotions to reach the second tier in the early 2000's. The club faced financial difficulties and were forced to play home games at the Don Valley Stadium after leaving Millmoor.
The Millers moved into the New York Stadium in 2012 having appointed Steve Evans as manager. He achieved back-to-back promotions before leaving and Rotherham had a dismal campaign, finishing bottom of the Championship with just 23 points. Under Paul Warne's management the club won promotion at the first attempt but again were relegated to League One after just a season in the second tier.
The Manager: Paul Warne
Warne spent most of his playing career at Rotherham as an attacking midfielder although he also had stints at Wigan, Oldham and Yeovil before hanging up his boots after a second spell with the Millers.
After Kenny Jackett resigned after just six games in charge of Rotherham sensing something was wrong, Warne stepped into his shoes as manager but could not prevent his team finishing rock bottom of the Championship. He won promotion through the play-offs in his first full season in management but couldn't prevent the Millers being relegated from the Championship in 2019.
The Ground: New York Stadium (Capacity 12,000 - Away: 2,500)
The New York Stadium is your typical new style bowl ground with no remarkable features but at least offers you a decent view of the pitch and isn't miles away from the town centre like other newer stadiums.
Pompey fans are situated in the South Stand and in the West Stand can be found the most gobby Millers fans who rather enjoyed their stoppage time winner when the Blues first played at Rotherham's new venue.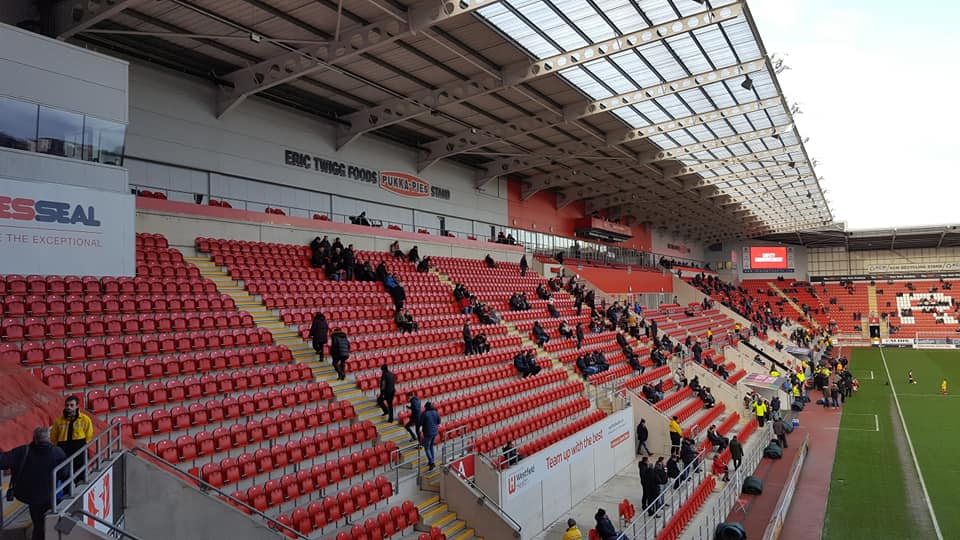 Opposite is the North Stand which isn't particularly interesting.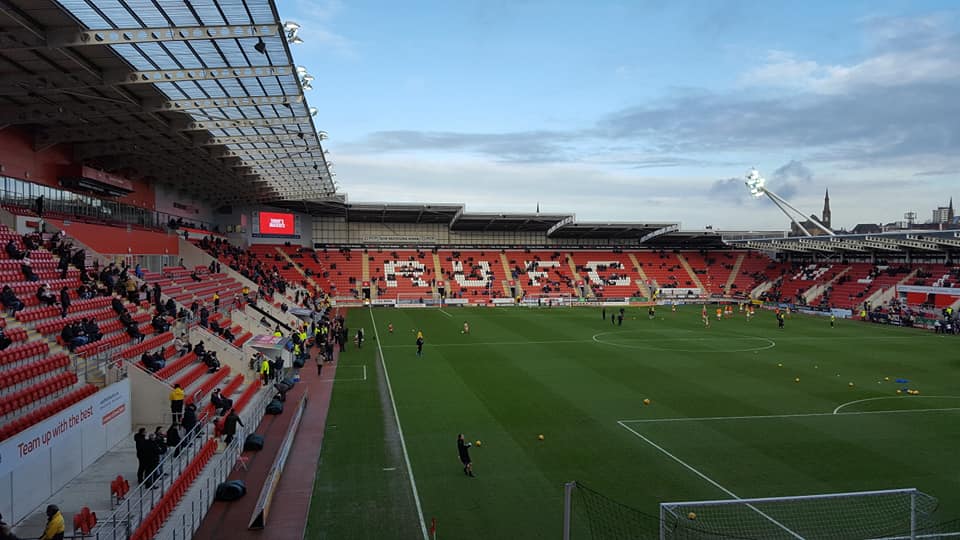 To the right is the East Stand and this, as well as the North and South stands have foundations for an extra tier to be built like the West Stand and bring the capacity of the ground up to 20,000 should Rotherham be able to attract crowds of that size on a regular basis.