Vital Statistics
Founded: 2004
Chairman: Pete Winkelman
Last Season: League Two - 3rd (Promoted)
Nickname: The Dons
Rivals: AFC Wimbledon, Peterborough United, Wycombe Wanderers
Major Honours
None
Scheduled Matches
Portsmouth vs MK Dons: Saturday, January 25th (3pm)
MK Dons vs Portsmouth: Sunday, December 29th (3pm)
Milton Keynes Dons: A brief history
Although a move to Milton Keynes for an established football league club had been talked about many years prior, it wasn't until 2001 that Wimbledon chairman Charles Koppel announced that the club needed to relocate to prevent it going out of business having groundshared with Crystal Palace for years and the original Plough Lane sold for redevelopment.
The move was ratified in 2002, much to many of the Wimbledon fans' fury who formed a new club in protest to the relocation. Pete Winkelman financed the club whilst it was in administration in 2003 and officially moved Wimbledon into Milton Keynes National Hockey Stadium in September that year.
Winkelman bought the Wimbledon out of administration and soon rebranded the club as Milton Keynes Dons in 2004. Then began legal disputes over Wimbledon's history with both AFC and MK claiming heritage but it was eventually agreed that both clubs were separate entities and thus none had claim to the original Wimbledon's history.
MK Dons moved into stadium:mk in 2007 ever since, with most of their seasons being played in League One under Karl Robinson with the odd foray into the Championship and League Two. Because of how MK Dons were founded, they have become one of the most hated football clubs in the country.
The Manager: Paul Tisdale
Tisdale began his playing career at Southampton but never held down a first team place there or at any of his following clubs until his career was ended early due to injury.
The 46-year-old began his coaching career at Team Bath and took the University side to the first round of the FA Cup as well as winning four promotions. These achievements drew the attention of ex-club Exeter and he was appointed their manager in 2006.
Tisdale established Exeter as a side that plays neat football and that paid dividends when his team won back-to-back promotions from the Conference to League One in 2008. He took his team to their highest ever finish of 8th in League One in 2011 but they were relegated the following season.
He stayed with the Grecians for twelve years overall before being prised away by MK Dons and he guided his current club to promotion last season.
The Ground: Stadium: mk (Capacity: 30,500 - Away: 3,000)
These photos were taken before the top tier had been completed, making an already impressive stadium even better. Say what you like about MK Dons as a club itself but their stadium is one of the best in the country.
Like Arsenal's Emirates Stadium, the seats are padded and the away allocation is plentiful given that the home areas of the ground never come close to selling out.
When you arrive in the stadium you are greeted with a massive open concourse which is more akin to an American Baseball stadium, but the facilities and food are excellent for a football ground. The photos below were taken from said concourse.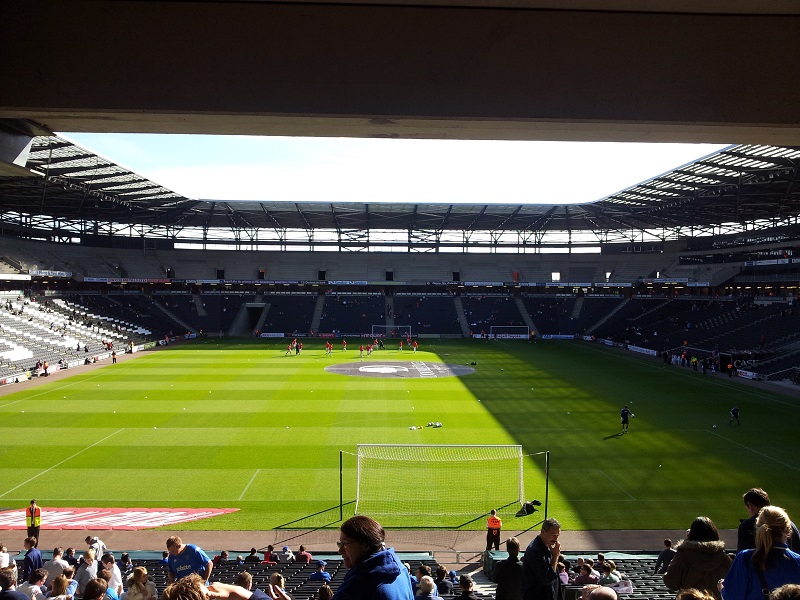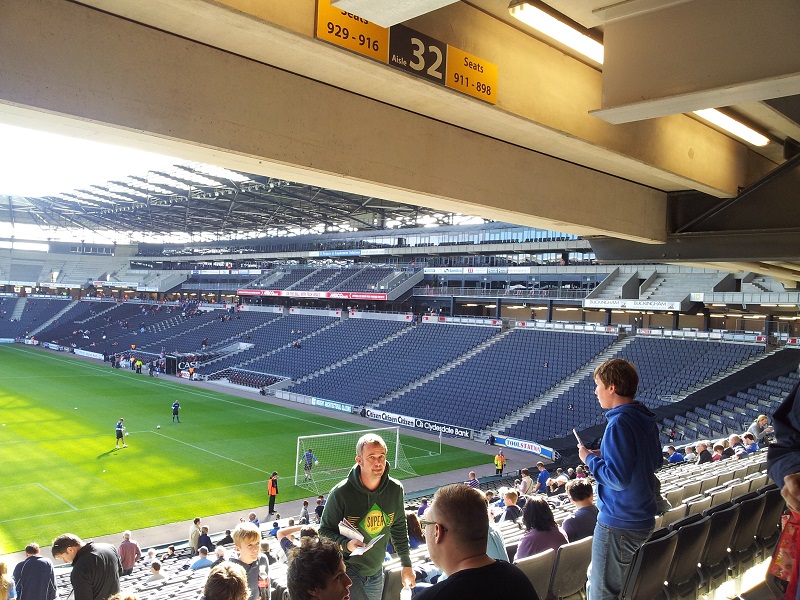 Overall, MK Dons is one of the best away days in the league. The only real problem for Pompey fans will be finding a good pub to drink in beforehand as pubs that welcome away fans are some way away in Milton Keynes town centre.