League Two Lowdown: Doncaster Rovers
Feature by Jim Bonner
Updated Monday, 25th July 2016
A closer look at Donny and the Keepmoat Stadium.
Vital Statistics
Founded: 1879
Chairman: David Blunt
Last Season: League One - 21st (Relegated)
Nicknames: Donny, Rovers
Rivals: Rotherham United, Barnsley, Hull City, Leeds United
Major Honours
None
Scheduled Matches
Portsmouth vs Doncaster: Saturday, October 1st (3pm)
Doncaster vs Portsmouth: Saturday, January 7th (3pm)
Doncaster Rovers: A brief history
Doncaster Rovers were formed in 1879 and were elected to the Football League in 1901 when they finished in their highest ever position of 7th in Division Two. They would be voted out, in, then out of the league again soon after and by 1914 the club folded due to huge debts but would reform and continue to play in the Midlands League.
The new club were part of the Football League again in 1923 but the 1940's saw Doncaster achieve two football records. The first was for longest match against Stockport which went on for 203 minutes (cup ties played after extra time carried on until a goal was scored but neither team managed to find the net before it was called off due to darkness) and the second is for most wins in a league season, when they won 33 games in the 1946-1947 season.
The 1990's saw Rovers run into the ground by criminal Ken Richardson who was jailed for attempting to set fire to Belle Vue to claim the insurance money. The club were relegated in 1998 with a -83 goal difference but found new investment under John Ryan and won a double promotion between 2004-2006 to take the club to the third tier. In 2008 they reached the Championship and yo-yo'ed between the second and third tiers of English football before their relegation to League Two last season.
The Manager: Darren Ferguson

Son of Sir Alex Ferguson, Darren briefly played for his father at Manchester United before being moved on to Wolves. The 44-year-old spent most of his playing days at Wrexham but ended his playing career at Peterborough United where he became manager at the age of 36.
Ferguson led the Posh to the Championship two years later and although he was sacked with the club bottom of the table, he soon got a new job at Preston. Unfortunately for him, he struggled at North End and soon found himself back at Peterborough, when he again won promotion to the second tier.
His team spent two seasons there before another relegation to League One but Ferguson couldn't recreate his magic and left the club by mutual consent. In October 2015 he was appointed Doncaster manager but couldn't prevent Rovers from being relegated to League Two.
The Ground: The Keepmoat Stadium (Capacity: 15,200 - Away: 3,300)
After spending 84 years at Belle Vue, it was time for Doncaster to move into their new stadium built in the middle of nowhere, although it is the only football league ground situated next to a lake.
There was a unique place to drink nearby called The Toad Brewery which is situated in part of a nearby warehouse but unfortunately it has now been closed down, meaning its a fair walk to the nearest boozer.
The exterior of the Keepmoat Stadium is more interesting than the interior. The floodlight design is unique and the ground looks tidy as you'd expect.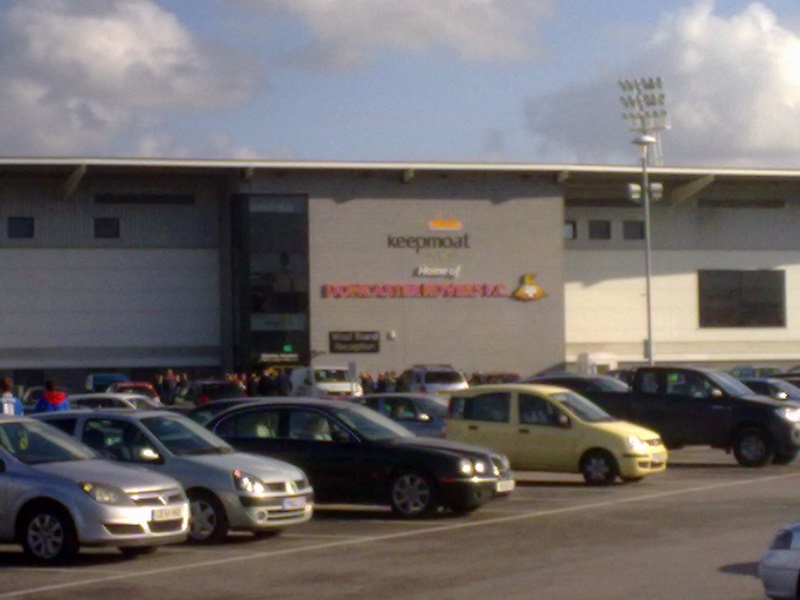 Pompey fans are housed in the North Stand which looks just like the South Stand opposite. The concourse inside is a good size though which means less chance of being bundled pre-game and during half-time.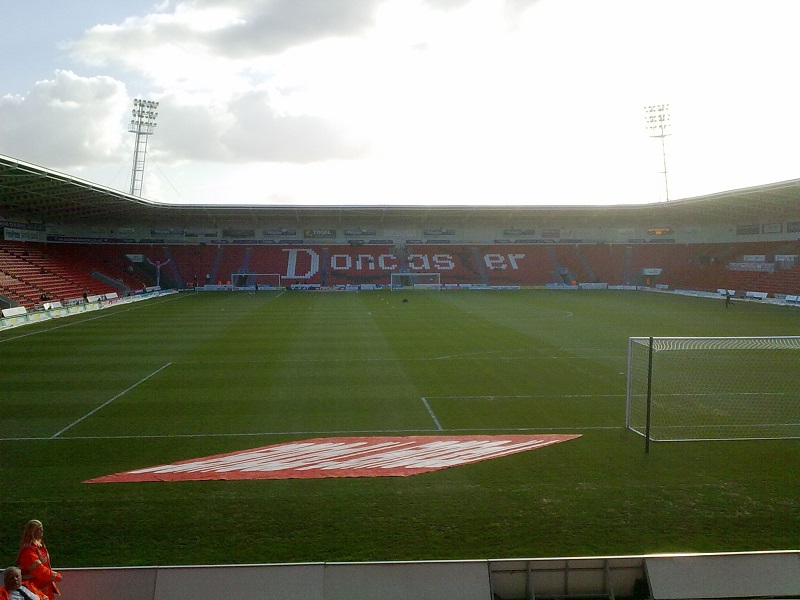 This is the rather plain looking East Stand.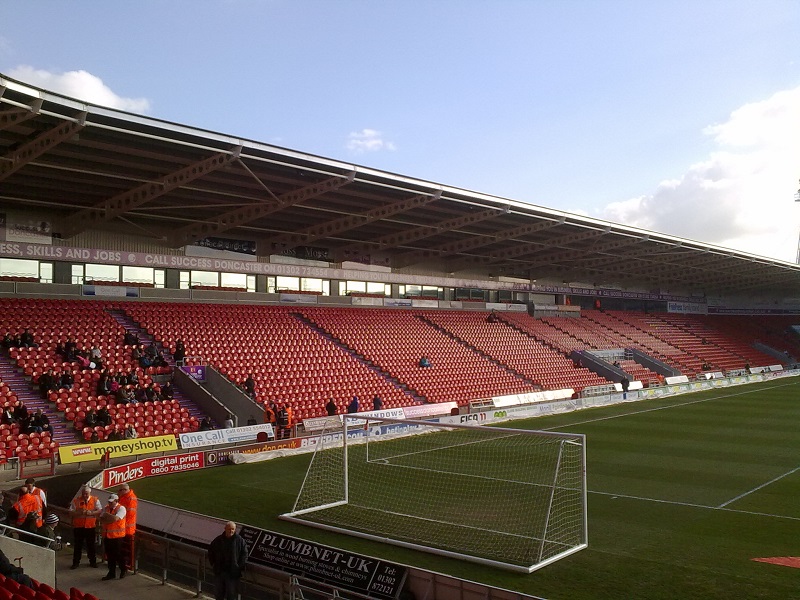 And this is the also rather plain looking West Stand. Basically, the Keepmoat Stadium is a smaller scale version of St. Mary's and so isn't very spectacular at all.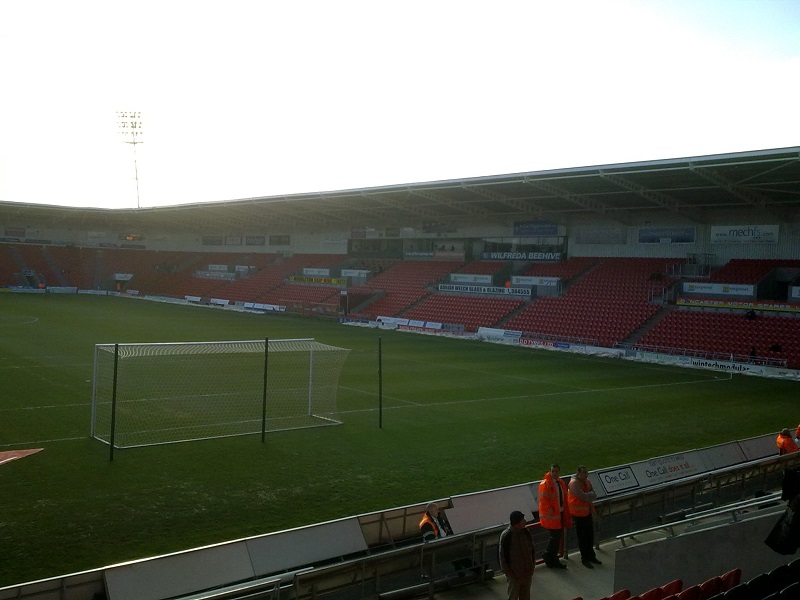 This is a slightly-skewed photo of the Keepmoat when it is "full" before kick-off back when both Donny and Pompey were in the Championship. With so many empty seats, the atmosphere from the home fans can't be heard but the away end is very condusive to creating a loud noise.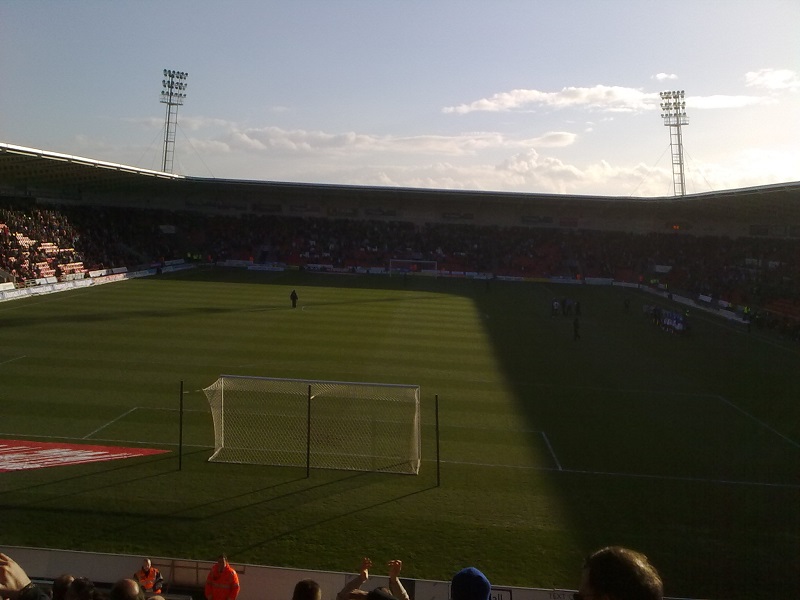 Interact with us
Sponsored links